Our Team
Radiant Senior Living was formed in mid-2011 with headquarters in Portland, Oregon. Our home office provides support to all of our Senior Living Communities throughout Oregon, Washington, Montana, Colorado, Nevada, and Idaho staffing over 1,000 employees and serving over 1,260 residents at all levels of care.
The home office team—led by Founder, President, and Chief Executive Officer, James Guffee and Chief Operating Officer, Jodi L. Guffee— is comprised of professionals with many years of experience in and a passion for the Senior Living field. We are proud to have been certified as a Great Place to Work by our staff.
Interested in joining the Radiant Senior Living team? Visit our careers page!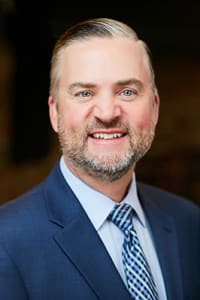 James T. Guffee, President and CEO
James T. Guffee is the founder of Radiant Senior Living, Inc. and serves as its President and CEO overseeing the general management of the company.  Mr. Guffee along with his wife and Chief Operating Officer, Jodi Guffee, are proud to continue their family's 44-year tradition of providing high-quality healthcare and innovative lifestyle choices for seniors.  For over 12 years, Mr. Guffee has served as an executive responsible for development, acquisition, capital restructuring, financing, and disposition of over 32 senior housing projects.  Prior to entering the senior housing industry, Mr. Guffee was an award-winning musician, composer, songwriter, producer, and performer, including seven years as the bass player for the critically acclaimed rock group The Tories. Mr. Guffee earned a Bachelor of Music, magna cum laude, from Berklee College of Music in Boston.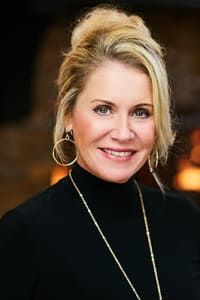 Jodi L. Guffee, Chief Operating Officer
At an early age volunteering in Senior Care Communities, Jodi L. Guffee developed a passion for seniors and experience in the Senior Care industry. Her passion led her to obtain a Bachelor of Science from the University of Oregon and a Master of Science in Gerontology from the University of Southern California. Jodi began her career in healthcare administration as a licensed administrator in both Assisted Living and Skilled Nursing facilities. While in California, Jodi was involved in the planning, construction, marketing and management of both new and existing Senior Care communities. Jodi L. Guffee is the owner and Chief Operating Officer of Radiant Senior Living where she leads the operations and marketing of 18 communities ranging from Independent Living to Skilled Nursing. Technology has been an integral part of her mission to create comfortable, caring environments for the staff, residents, and family members of Radiant Senior Living. In her role, Jodi has had the opportunity to explore, test, and implement state-of-the-art technology that touches each part of the Senior Care business. Her desire is to bring multi-purpose tools to her teams to help aid them in providing the best in Senior Care.
David Young, Chief Financial Officer
David brings hands-on financial experience to the CFO position having previously served as the Vice President of Finance in the Senior Living industry.  Additionally, David has experience in acquisitions, raising capital, financial modeling, budgeting, strategic planning, and real estate lending and investing.   At Radiant Senior Living, David focuses on the overall financial health of the business including operating efficiencies, revenue growth, expense control, cash flow management, short and long-term financial modeling, and key metric tracking, as well as owner and lender relations.  David holds a Master of Business Administration from the University of Notre Dame, and a Bachelor of Arts in Classical Studies & Culture, from New Saint Andrews College in Moscow, Idaho.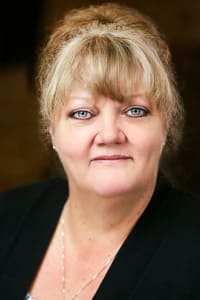 Chirley Kilmer, Senior Vice President of Operations
Chirley Kilmer joined our team in November of 2011 as the Vice President of Operations and was promoted to Senior Vice President of Operations in 2018. Chirley brings to this position over 20 years of experience and has held a management position in the senior living industry continuously since 1997. Ms. Kilmer has a spirit to serve our senior population and has expertise in revenue enhancement, operational efficiencies, standard operating procedures, regulatory compliance and quality improvement.  She has participated in development, acquisitions and operations in retirement and assisted living communities in Oregon, Washington, Idaho, Nevada, Colorado, and Montana. Her responsibilities at Radiant Senior Living include overseeing the functional areas of the management company's retirement, residential care and assisted living communities. Ms. Kilmer's educational background is in accounting with an emphasis on business management and she is a certified Administrator in Washington and Oregon.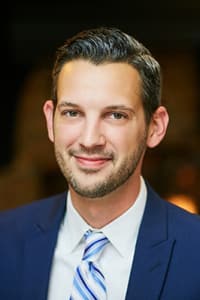 Jace Sampson, Vice President of Operations
Jace joined the Radiant family in December 2012 as an Executive Director in one of our Portland area properties.  He quickly became the Area Operations Manager and now compliments our management team as the Vice President of Operations. Jace brings more than 15 years of experience to his position.
Jace discovered his passion for seniors at an early age when he began in long-term care as a Certified Nursing Assistant, later transitioning into positions including Assistant Staff Development Director, Business Office Manager, Resident Care Coordinator, Community Relations Director and Executive Director. His experience includes Skilled Nursing, Retirement, Assisted Living, Memory Care and In-Home Care.  Jace is a certified Administrator in Washington, Oregon, and Colorado.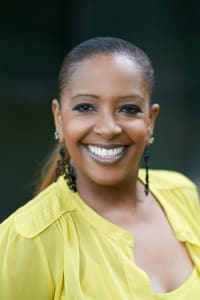 Lissa Guyton, Vice President of Sales & Marketing
Lissa rejoined Radiant Senior Living as Vice President of Sales and Marketing April 2018 and she is excited to bring her successful coaching and relationship building techniques which have increased overall census revenue throughout her 16-year career in the industry.
Lissa has worked her way up in the senior living industry, within Radiant Senior Living and other senior living companies, as an Executive Director, Regional Marketing Director, Corporate Sales and Marketing Director.  Lissa's experience as an Executive Director with responsibilities for the sales and marketing as well as operations in a community gives her an overall perspective that she is able to utilize in her role as Vice President of Sales and Marketing. Lissa has been instrumental in building strong sales teams while developing company-wide sales training materials, facilitating on-going sales training seminars, coaching, motivating and providing new and innovative marketing ideas. 
Educationally she has a Bachelor of Science Degree from Willamette University located in Salem, Oregon. 
In her personal life, Lissa is married to Reggie and they will be celebrating their 33rd wedding anniversary this year.  Lissa has 3 children, twins Cameron and Camille and her youngest son Reginald. Whenever she can she loves to spend time with her 6 grandchildren. Lissa is a huge sports fan, avid golfer and sings in various Portland metro area community gospel choirs.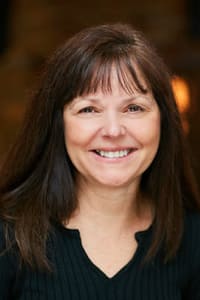 Donna 
Frasier
Financial Controller
Donna Frasier joined our team in 2002. She started her accounting career in high school, worked her way through college, and earned a Bachelor of Science in Accounting from Portland State University. Donna became a Certified Public Accountant in 1984 around the same time that she began working in the senior care industry. She has experience with all aspects of accounting and has been responsible for overseeing an accounting staff for over 25 years.
Teddi Neilson
Regional Director of Operations
Teddi Neilson started her career at Farmington Square as a Med Aide and worked her way into a Resident Care Coordinator position. Teddi's passion for Alzheimer's and Memory Care soon landed her the role of Assistant Director and as of April 1st 2015 she has stepped into the role of Executive Director. Teddi accepted the role of Regional Director of Operations in February of 2019. 
Teddi has walked in the shoes of line staff which allows her the opportunity to know what they do every day. She is trusted by her staff and they feel that her leadership skills are unmatched because she knows firsthand what they do every day. 
Teddi was Radiant Senior Livings' Outstanding Employee of the Year for 2014. Teddi shares her love of swimming and outdoors with her two sons and husband.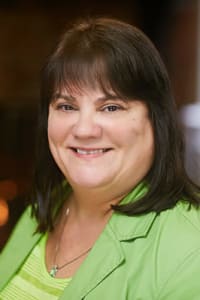 Sue Mooney
Director of Human Resources
Sue Mooney has been with the company for over 25 years in a variety of positions with a broad range of experience including recruitment, retention, policy and procedure development, performance management, safety administration, workers compensation, and auditing HR compliance. Sue received her Associate Degree from Portland Community College and earned her Professional in Human Resources certification in 2006 and is a current active member of the Society for Human Resource Management (SHRM). Sue Mooney started her career in Senior Living as a part-time caregiver in September 1992. Over the years she has advanced and held a variety of positions within the company. She has gained solid operational and HR experience from her variety of positions held.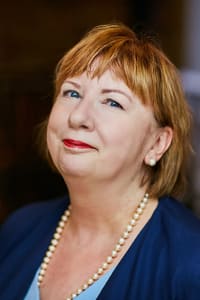 Patricia Steele
Director of Clinical Services
Patricia Steele joined the Radiant Senior Living team in December of 2016 with over 21 years of experience in Assisted Living and Long-Term Care industry. Her position prior to Radiant Senior Living was as the District Director of Clinical Services supporting ten communities in regulatory compliance, service plan accuracy, and implemented programs. Educationally Patricia has an MSN with a focus on gerontology and management from the Medical College of Ohio, a BSN from the University of Toledo and an A.D. in Applied Sciences Nursing from Michael J. Owens Technical College.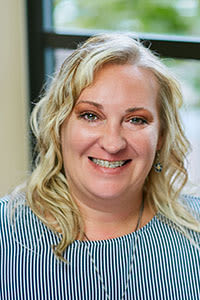 Wanda Wooten
Director of Health Services
Wanda Wooten joined our team in 2017 as a Traveling Resident Care Coordinator, moving into the role of Director of Health Services in 2018 where she provides support, training, and oversight for all of our communities. Wanda has over 24 years of experience in a variety of senior care settings. Prior to joining the Radiant Senior Living family, she had served as the Director of Operations for an In-Home Care Agency for 11 years and owned/operated an Adult Family Home for 7 years. Wanda is a dedicated, service-focused professional whose passion is providing quality care to our seniors. 
Wanda lives in Vancouver, Washington with her husband Mike.  They have been married for 20 years.  Wanda has five children and four grandchildren. She loves to camp, boat and be in the outdoors with her family.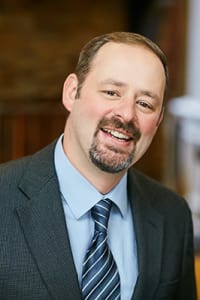 Matt Theodore
Director of Environmental Services
Matt Theodore joined the Radiant family in September 2004 as a landscaper at our Farmington Square community in Beaverton, Oregon. He quickly worked his way into the Maintenance Director position where he thrived, learning the industry from the bottom up. His career then spurred his eagerness to start college in 2012 where he worked for his Associates Degree in Facilities Maintenance. In May of 2014 Matt joined the Radiant Home Office team earning the title of Plant Operations Manager.
His attention to detail and leadership abilities quickly made him the perfect candidate for the Director of Environmental Services position where he supports our maintenance departments of Radiant Senior Living communities. 
Jenni Bost
Director of Brand Development
Jenni Bost joined the Radiant Senior Living team in 2013 as the Social Media and Marketing Specialist. Her background in journalism, graphic design, blogging, and social media management helped shape the print and online presence of Radiant Senior Living. Accepting the role as the Director of Brand Development in 2017, Jenni directs the delivery of a consistent brand experience at Radiant Senior Living and our communities. This includes involvement in developing brand strategy including the monitoring and evaluation of brand performance in areas such as recruitment, training, and marketing.